Click images to see larger or alternate views
Tap images to see larger or alternate views
Note: Tap a photo's right or left side to go forward or back.
Above: Gardens of the Garden State, by Alice Harrison
An artist's book is a work of art in book form. The objects encourage readers to rethink the nature of the book and reading in new and unexpected ways.
Presented by Book Arts Roundtable, the exhibited art books incorporate typography, papermaking, paper engineering, bookmaking, design, fine art, graphics, creative writing and digital media. Each displayed book was created by a New Jersey artist and inspired by the Garden State.
Book Arts Roundtable was established to encourage the love of book and paper arts and create a forum for the exchange of ideas, information and instruction about the art of the book. For further information, visit: www.bookartsroundtable.com
Born into slavery on a South Carolina plantation in 1843, Simon Douglas served as a body servant to his master (or master's son) in the Confederate Army during the Civil War. He escaped the Confederacy as a bummer (forager) and blacksmith in the Union Army during Major General William T. Sherman's March to the Sea and the Carolinas Campaign.
In 1866 at the age of 23, Mr. Douglas arrived in Fairview, New Jersey where he settled, raised a family and worked as a blacksmith for 70 years until total blindness forced his retirement. According to a former neighbor and friend, Simon rarely talked about his early years but he loved to discuss horses and proudly said that he was the first African American to cast a vote in Bergen county. During his lifetime, Mr. Douglas witnessed the end of slavery, the era of Reconstruction and Jim Crow laws in his native state and lived long enough to witness the early Civil Rights Movement. He died on March 9, 1950 at the advanced age of 107. Although he never officially mustered, he lived to be the last surviving Civil War soldier in New Jersey.
"The People's House"
Partnership with Artworks Trenton
On view through November 6, 2019
The Drumthwacket Foundation partnered in July with Artworks Trenton to connect community teens with professional Trenton urban artist Leon Rainbow and assistant artists Sophie Ban and Radek Selski to create three unique installations in the gardens at Drumthwacket. The immersive two-weeks program included an exclusive tour of Drumthwacket and brainstorming sessions at Artworks where the students learned about street art culture before solidifying their ideas into a cohesive design concept. Working together outdoors, the vibrantly colorful murals painted by the students reflect the spirit of community partnership and Drumthwacket, "The People's House".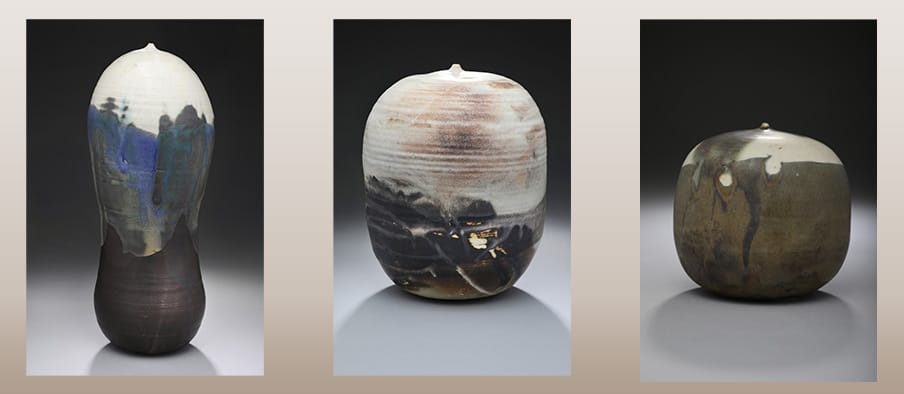 Toshkio Takaezu: Select Works
March 5 to November 14, 2019
Born in Pepeekeo, Hawaii to the parents of Japanese immigrants, Toshiko Takaezu (1922-2011) studied art first at the University of Hawaii and later at the Cranbrook Academy of Art in Bloomfield Hills, Michigan. Strongly influenced by the Finnish ceramist Maija Grotell (1899-1973) and Zen Buddhism, Toshiko was at the vanguard of the movement to explore ceramic's possibilities as an independent aesthetic medium. Her signature 'closed forms' and torpedolike cylinders embrace the notion of ceramic pieces as artworks meant to be seen rather than used. No longer able to contain, the vessels lose their utilitarian meaning an communicate as pure art.
The works exhibited are on generous loan from The Noyes Museum of Art of Stockton University.
Gyre Series: Climate Change Project Photographs by Susan Hockaday
September 12 to November 14, 2018
An exhibit of photographs by Susan Hockaday raising awareness of the devastation of plastic debris upon the environment.
Lincoln & Olden: The President & Governor
Winter/Spring 2017
The exhibit examined the relationship between President Abraham Lincoln and New Jersey Governor Charles Smith Olden during the Civil War through original artifacts, letters, photographs and memorabilia.
Inspire: Everyday People Changing New Jersey
2015 – 2016
The Drumthwacket Foundation commissioned nine New Jersey fine art photographers to photograph eighteen individuals honored by the non-profit organization New Jersey Heroes.
Eureka! Innovation and Invention in New Jersey
September 17 to November 19, 2014
The exhibit showcased, among others, the original bubble wrap prototype machine, the training suit worn by Astronaut Paul Weitz, and an electric guitar once owned by Les Paul as examples of New Jersey innovation. The exhibit launched "Eureka!" the free, on-line S.T.E.M. learning module developed by the Foundation in partnership with New Jersey teachers.
New Jersey Impressions
2013 – 2014
A selection of New Jersey-inspired landscape paintings by artists who live and work in the Garden State.
Photographs by Wendel White
February 2013
The exhibit showcased work from the artist's portfolio Small Towns, Black Lives, a 13-year project documenting small, historically African American towns and settlements within the southern counties of New Jersey and Schools for the Colored, a continuation of the artist's journey through the African American landscape.
Watercolor Illustrations of E. B. Lewis
February 2012
A resident of Mays Landing, New Jersey, E.B. Lewis is an award-winning artist who has illustrated more than 50 books for children.